Login
Log in if you have an account
Dont have an account? Register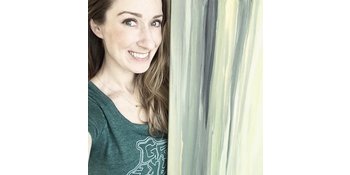 Evan Hilsenberg-Riley
Evan grew up in the Ballard neighborhood of Seattle, Washington.
She studied advertising and fine art at Washington State University in (glorious) Pullman, Washington prior to returning to Seattle. She now resides in Shoreline with her husband Ryan, daughter Blake - and their perpetually hungry Labrador/studio assistant; Aussie.

The current focus of Evan's work is translating the rejuvenating impact of nature and expansive skies onto canvas. She continually studies the manner in which color and shadows shift throughout the day- with those insights informing both her technique and palette.

She works primarily in acrylic; finding infinite inspiration in undulating storm clouds over the Sound and meandering, sun-dappled trails.